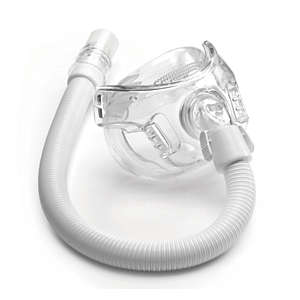 Amara View Full Face CPAP Mask without Headgear
The smallest, lightweight traditional full face mask on the market
Details
The Amara View Full Face CPAP Mask is the most convenient full-face CPAP mask on the market.
The under-the-nose layout does not require forehead support that blocks vision so people who wear the mask have the freedom to wear glasses, read a book, or even watch T.V. before falling asleep.
In addition to allowing wearers to maintain a full view of their surroundings, this CPAP mask by Philips Respironics won't leave a mark across the bridge of their nose.
Unlike other types of CPAP masks, the Amara View Full-Face CPAP Mask comes in a universal size that will fit everyone.
Wearers can specify which size of cushion they need to attain a comfortable, customized fit.
The cushions are made from liquid, silicone rubber with a comfortable nostril opening that provides pressure without irritating the area.
When the cushion wears out, there's no need to replace the whole mask.
Wearers can simply purchase a replacement cushion in the size that they need.
Included in your package:
Amara View Full Face CPAP Mask without Headgear Features
Smallest and lightest FFM
Wide field of vision
Able to wear glasses, read and watch TV
Easy to use with one modular frame
Documents & Videos for the Amara View Full Face CPAP Mask without Headgear